Recently made the Cup Size Choir for La Senza via the agency Karmarama, which was quite a hit over the Christmas period… 1,000,000 uniques over the first 4 days. The site got hammered by Gizmodo on the first night, apparently was serving 200mb/sec at one stage.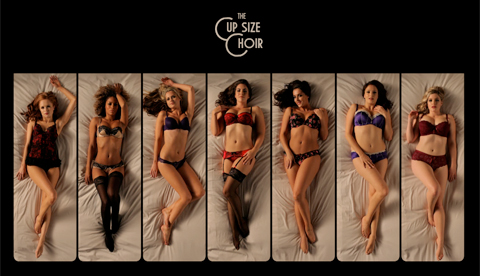 So forget the boring Deck the Halls song, here's a link to the Nothing Else Matters intro that I made: www.cupsizechoir.com/?s=27775
Unlike most tunes that are recorded live on the site, having access to the database I entered this tune in via code. Took about 2 hrs to format the data correctly for the tune – it doesn't mimic the guitar work perfectly though.
Flagged as NSFW, but I really think it is SFW.
For code people, here's the 'tablature' for the tune:
var barlength:int = 24;
var bar : int = 0 * barlength;
deckthehalls[bar + 0] = 0;
deckthehalls[bar + 4] = 2;
deckthehalls[bar + 8] = 4;
deckthehalls[bar + 12] = 7;
deckthehalls[bar + 16] = 4;
deckthehalls[bar + 20] = 2;
bar += barlength;
deckthehalls[bar + 0] = 0;
deckthehalls[bar + 4] = 2;
deckthehalls[bar + 8] = 4;
deckthehalls[bar + 12] = 7;
deckthehalls[bar + 16] = 4;
deckthehalls[bar + 20] = 2;
bar += barlength;
deckthehalls[bar + 0] = 0;
deckthehalls[bar + 4] = 2;
deckthehalls[bar + 8] = 4;
deckthehalls[bar + 12] = 7;
deckthehalls[bar + 16] = 4;
deckthehalls[bar + 20] = 2;
bar += barlength;
deckthehalls[bar + 0] = 0;
deckthehalls[bar + 4] = 2;
deckthehalls[bar + 8] = 4;
deckthehalls[bar + 12] = 7;
deckthehalls[bar + 16] = 4;
deckthehalls[bar + 20] = '2,11';
bar += barlength;
deckthehalls[bar + 0] = '0,11';
deckthehalls[bar + 4] = 2;
deckthehalls[bar + 8] = 4;
deckthehalls[bar + 12] = '7,11';
deckthehalls[bar + 14] = 7;
deckthehalls[bar + 16] = 4;
deckthehalls[bar + 20] = 2;
bar += barlength;
deckthehalls[bar + 0] = 0;
deckthehalls[bar + 4] = 2;
deckthehalls[bar + 8] = '4,11';
deckthehalls[bar + 12] = '7,12';
deckthehalls[bar + 16] = '4,11';
deckthehalls[bar + 20] = '2,10';
bar += barlength;
deckthehalls[bar + 0] = '0,11';
deckthehalls[bar + 4] = '2,10';
deckthehalls[bar + 8] = '4,9';
// half bar up to A
bar += 12;
deckthehalls[bar + 0] = 3;
deckthehalls[bar + 4] = 5;
deckthehalls[bar + 8] = 7;
deckthehalls[bar + 12] = 10;
deckthehalls[bar + 16] = 7;
deckthehalls[bar + 20] = 5;
bar += barlength;
deckthehalls[bar + 0] = 3;
deckthehalls[bar + 4] = 5;
deckthehalls[bar + 8] = 7;
deckthehalls[bar + 12] = 10;
deckthehalls[bar + 16] = '3,5,7';
deckthehalls[bar + 20] = '4,5,7';
// up to c
bar += barlength;
deckthehalls[bar + 0] = '5,7';
deckthehalls[bar + 4] = 7;
deckthehalls[bar + 8] = 9;
deckthehalls[bar + 12] = 12;
deckthehalls[bar + 16] = 9;
deckthehalls[bar + 20] = 7;
bar += barlength;
deckthehalls[bar + 0] = 6;
deckthehalls[bar + 4] = 8;
deckthehalls[bar + 8] = 10;
deckthehalls[bar + 12] = 13;
deckthehalls[bar + 16] = 10;
deckthehalls[bar + 20] = 8;
deckthehalls[bar + 23] = 100; // end loop